Eligibility Requirements
Rising juniors and rising seniors from any U.S. based college of university (who will not have graduated by May 2023) in a computing, engineering, science, or other technology major.
Should have a cumulative GPA of 2.75 or better.
Should have not yet completed a Bachelor's degree.
Must be a U.S. citizen or permanent resident
Women, underrepresented minorities, as well as students with community college experience or those attending institutions with limited opportunities for undergraduate research, are encouraged to apply.
Prior research experience is desirable but not required. 
Image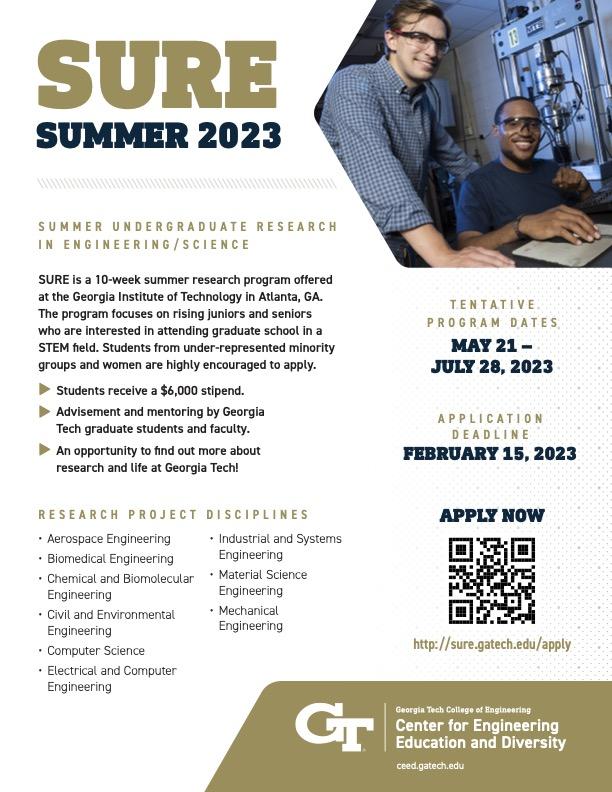 Application Procedures
All components of the SURE application are submitted via the online portal. No application materials will be accepted via email.
Please complete the following items in advance:
1. Select your faculty member for the letter of reference:
Identify a faculty member at your home institution who can speak about your experiences in a research lab or technical classroom environment. You can also select a faculty member from another institution, with whom you have conducted research in the past. You will be asked to provide their contact info and we will send an auto-email requesting they submit a letter on your behalf. DO NOT ask your recommender to send a letter to the SURE email account. 
2. Write a statement of interest that is free of grammatical or typographical errors and that covers all of the points listed below. The limit is 2000 characters including spaces and punctuations and you will be able to upload it directly into the application (PDF format Only). 
Why do you want to participate in the SURE program?
Discuss your personal and educational background and what makes you a great candidate for a summer research program. 
Discuss any previous research experience and how you would apply those skills to the SURE program.
Describe your future educational and career plans.
Discuss how participating in a summer REU will contribute to those plans.
3. Obtain a PDF copy of your unofficial transcript. 
Selecting a Research Lab
On the online application, you will be able to rank your top 3 faculty that you would like to work with next summer.
NOTE: There is no guarantee that you will be matched with the faculty members that you select.
Application Components
1. One letter of recommendation from a faculty member
2. A statement of interest
3. An unofficial transcript
Application Details
The SURE application is OPEN.
Open a web browser to Georgia Tech's InfoReady service.
Search for 2023 SURE to login to application
Look for the registration confirmation in your spam or junk folder upon registering your account
Please read ALL application instructions before submitting. Decisions will be made on or before mid March